LESSONS & TRAINING
Lessons are available for beginner through advanced adult riders and advanced junior riders. Ellie loves working with students who want to improve their riding skills through dressage techniques and can also help adult beginners start their riding career with the best foundation. School horses are available that are quiet, safe and well-trained. Our school horses are regularly schooled by Ellie so that they can perform their job well and continually improve upon their skills.
With all horses in training with Ellie, she stresses correct basic foundation and dressage technique. Ellie creates tailored programs to help you achieve your goals with your horse and in your riding — training and showing goals (showing is not required) are set together with the rider/owner. Ellie always relies on good solid training—no quick fixes—just hard work and good technique.
---
SHOWING
The Galloways Farm goal for showing is to prepare our riders and their horses to enter as winners into the show arena. Galloways Farm shows at USDF Recognized Dressage Shows (Gold Coast Dressage Association, Wellington Classic, WEF, White Fences, and throughout Florida); Regional Championships; Sport Horse National Championships; Class 'A' Arabian Shows; and local Dressage Schooling Shows (Gold Coast and Parkland Horseman's Association).
---
MATCHING HORSE & RIDER
We help match up our clients with the horse to fulfill their dressage goals and dreams (buying horses either locally or globally depending upon clients' wishes). Finding the appropriate horse for the rider is so important to us. It is the first and the most critical ingredient to a beautiful riding partnership.
Successful riding partnerships found through Ellie: Lisa Geiger with Sharavogue, Susan McGregor with Tsundance Kid, Sarah Moss with Crystal Sensation, Myra Tucker-Joeckel with SRF Dawns Quinela, Liz Cohen with SRF The Whistler, Michele Mellgren with Ezmerelda La Belladora, Brianna Yaffe with Mystique's Legacy, and Star Spangled Sommer with Katherine Graman.

Lisa Geiger and Sharavogue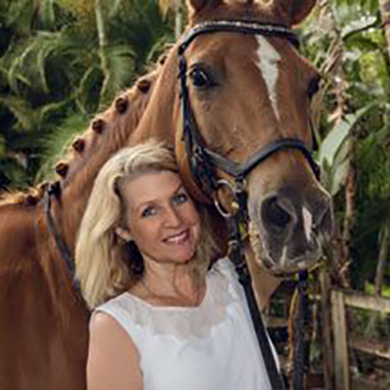 Susan McGregor and Tsundance Kid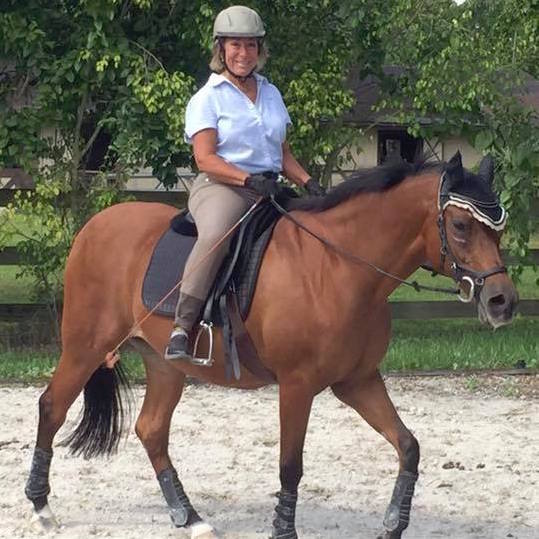 Myra Tucker-Joeckel and SRF Dawns Quinela

Elizabeth Cohen and SRF The Whistler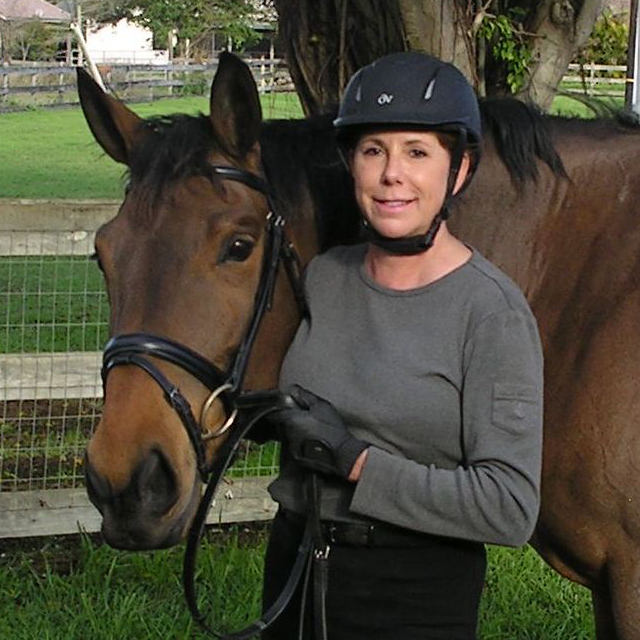 Michele Mellgren and Ezmerelda La Belladora
---
BOARDING
Galloways Farm offers boarding to Ellie's students and training clients. We have a beautiful center-aisle barn with covered and matted shower and grooming areas, a temperature controlled fan system, a professionally designed and maintained full-size lighted dressage arena that is groomed daily, a large grass field with cavalettis for strengthening your horse, immaculate grass paddocks for individual turn-out, and the absolute best care available for your horse!